In our workshops, our staff teach children turn-based Pokémon battling in the style of the Pokémon video games, such as Pokémon Sword and Shield. We also teach children how to play the Pokémon Trading Card Game using the Pokémon company's TCG Online program.
All experience levels are welcome! We offer guidance on an individual level to help all players fulfill their potential as Pokémon Trainers.
Our Pokémon program has additional FREE perks including Pokémon Go outdoor social events and private, kids only Pokémon Tournaments (Coming Soon!)
Pokémon Trading Card Game Club
Virtual and Live!
In this trading card game workshop, students will engage in friendly competition to "Be The Very Best."
Utilizing strategy, creativity, and sportsmanship, players can defeat opponents, collect digital cards, build up dynamic decks, and forge new friendships through action-packed battles every week.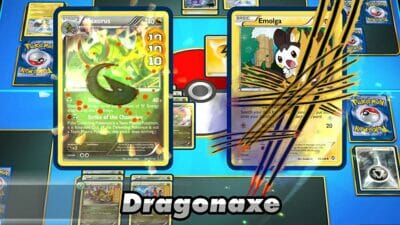 Every class, we will distribute FREE digital booster packs to your child – so there's no need to have their own cards to participate.
This workshop is played via Pokémon Trading Card Game Online, a free software compatible with most PC and Mac devices, as well as iPads and Android tablets.
Students will have access to our library of theme decks and Pokémon cards. Using our library of cards, they will learn how to construct their own decks.
Our live Pokémon Card Game Club is hosted in certain live locations during some semesters. Please review our live schedule to see if it is available near you!
Pokémon Go Social Events
(FREE to attend, adult participation required)
In Pokémon Battle League, students will use an online simulator to create a competitive team and put their skills to the test. Learn type advantages, technical combos, and more as you battle other members of the class from across the country.
As students compete and train, we emphasize the importance of winning and losing with grace and learning from both experiences. Pokemon Battle League promotes skills like sportsmanship, strategy, and value assessment.
Please use the button below to access pricing and registration.
Be Our Friend on Pokémon Go!
If your child has permission to add friends on Pokémon Go, we welcome you to add us! Use the trainer code or QR code below to send us an invitation.
Educational Benefits of Playing Pokémon
Solve problems, strategize and trade!
Apply math and build reading fluency with every game!
Compete with honor and grace in a safe environment!